Luxury at home
Link of the day - How PickyDomains.com Changed The Domain Game For Good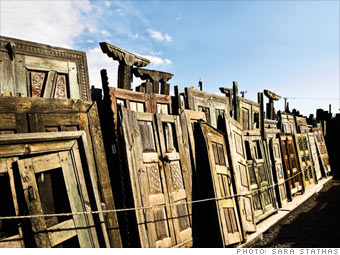 http://www.lapuertaoriginals.com/
Scott and Melissa Coleman see profit in faded paint, nail holes, and rust stains. Their company, La Puerta Originals, turns antique and reclaimed wood and scrap metal into custom-made doors for high-end homes. More than 6,000 doors, collected from around the world, jostle for space on their four-acre property in Santa Fe, and each slab comes with its own provenance.
"The process for our customers is more involved than simply opening a catalog," says Scott, an architect by training. "I walk with them, take them to the wood, and tell them the story behind it."
A recent La Puerta project - an $8,000 hammered-tin door for a house in Santa Fe - features a metal disc stripped from an antique farming tool that the Colemans found while driving through Mexico's Sierra Nevada.
"The collecting of materials is a passion unto itself," says Scott, whose company pulls in annual revenue of $4.4 million. "There is no piece of wood too small."
P2P Camping
Profiting From Exotic Popcorn Flavors
Magic As Business
Weird Businesses - Lightning Photography
Demographic Winter: Decline of the Human Family