Underground Signs As Business
Link of the day - If You Sell Links On Your Site, I Will Buy Them Off You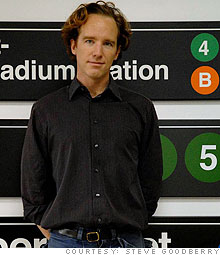 http://www.underground-signs.com/
The Great Recession created a lot of new entrepreneurs: When you're not working, the opportunity cost of launching a new venture is low.
Trevor MacDermid used to be a freelance Web content manager for companies like MasterCard and British Telecom. But in 2009, the gigs stopped coming. Needing something to do, he made a New York City subway sign.
"I like professional signage -- what you see in airports, in factory buildings," says MacDermid, 35. "I am somewhat handy. I just made one for a friend. I thought it was a fun thing."
That first one read "Veranda Place" -- which is a street name, not a real NYC subway stop. MacDermid used computer programs to design the lettering and worked with a tinsmith for the metal.
Then he built his own website to advertise his signs. "It seemed like a good little project, a good weekend project," he says. "Then I just said, well, forget that -- this is what I am going to do."
He mostly works alone out of a studio in the Brooklyn Navy Yards, but he does have to staff up around the holidays. The signs are carried by the New York's Transit Museum shop, a couple of stores in Connecticut, and a baseball memorabilia store. The most popular sign MacDermid sells is for "161st Street -- Yankee Stadium." The runner up: "42nd Street, Grand Central." The signs retail for $99 to $500, depending on the complexity and size.
The venture was profitable in its very first year. MacDermid is licensed with both the NYC MTA and the Boston MBTA, paying a percentage of his sales to the transit authorities because they own the "look and feel" of the signs.
"They are happy and I am happy," MacDermid says. "I am the only officially licensed manufacturer of these signs."
For more unusual ways to make money, visit
this site
.
[Via -
CNNMoney.Com
]
The Million-Dollar Idea in Everyone: Easy New Ways to Make Money from Your Interests, Insights, and Inventions
IdeaSpotting: How to Find Your Next Great Idea
How to Make Millions with Your Ideas: An Entrepreneur's Guide by Dan S. Kennedy
101 Businesses You Can Start With Less Than One Thousand Dollars: For Stay-at-Home Moms & Dads
Make Your Ideas Mean Business
Link of the day - If You Sell Links On Your Site, I Will Buy Them Off You